Easy Shrimp White Bean Soup, and My Pantry Hacks
Posted by admin on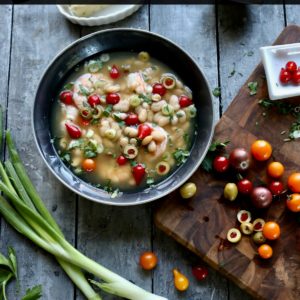 Shrimp white bean soup is surprisingly easy and its made with canned beans.
You will want to make this easy Shrimp White Bean Soup when pressed for time, yet yearning a soup to warm you up on a cold but busy day, because you probably already have everything you need. Please read below to see the pantry items I always have on hand that help create delicious food fast.
I took advantage of store purchased chicken broth, frozen shrimp and canned white beans. Originally, I did an instagram post for BUSHS White Chili Beans and developed a quick and easy recipe in under 10 minutes. Not all of you follow me on instagram, and I didnt want to leave you out. I used their canned white beans. Any canned white beans will work in this recipe.
In our extra intelligent generation, Im often shaking my head, because people think all cooking is hard. Its not. It just takes a few good cooking hacks to stay the course of eating real food at home.
Here are some of my Pantry Must Haves for My Pantry Hacks
Boxed Organic Chicken Broth. I would seriously feel naked without chicken broth in the house, and Im not always the one that makes it. I particularly like the six boxed set at Costco, and the Whole Foods brand. Not all chicken broths are created equally, and I avoid any that say tuscan which will mean a lot of flavors Im not looking for. I want a clean chicken broth flavor, which I can use in lots of recipes, like this chicken and biscuits or this Italian Wedding Soup.
Chicken broth is more versatile than beef broth and is the broth I might use for beef and seafood dishes.
Shrimp White Bean Soup with Canned Beans
Canned Beans I am not the biggest bean eater, but everyone in my family is, and there is so much you can do with a can of beans to add heft to a meal, or create a great appetizer like white beans bruschetta. I used Bushs white chili beans, because they had some flavor already cooked in that would usually take hours.
Boxed Organic Chicken Broth Seriously, you can have soup in minutes. I love the Whole Foods Brand.
Frozen Shrimp First of all, I was at a shrimp processing plant and watched freshly caught shrimp (that morning) being flash frozen, which is the freshest shrimp you can get if you arent living at the coast. I live in Nashville area and if the shrimp are fresh, they were just defrosted. This is why I prefer frozen shrimp which you can do so much with. Some of my favorites include this spicy shrimp quiche, this shrimp with zoodles, this shrimp avocado salad and this grain free shrimp scampi.
Olives This might sound crazy to you, but a few sliced olives can perk up a dish, adding that salty, briny taste, adding a bit of acid and bite. Olives perked up this Chicken and Olives and this Seafood dish.
Kale You have to know by now Im a huge fan of greens, and when I discovered kale could be frozen, I wrote about that here, because its a great add to brothy soups like this one.
Herbs If I had to pick one dried herb to have on hand, it would be Herbes d Provence. Most times I have fresh on hand, especially Italian Flat Parsley Most of the time I have a glass containing a bouquet of fresh parsley in my kitchen. I have rosemary and thyme growing on my deck all year. You can grow herbs in your house or apartment with an Aero Garden.
Extra Virgin Olive Oil Come on now. You had to see this coming. Olive oil is not just for salads or roasting vegetables. It can be a major player in a quick soup. Drizzle olive oil into soup and be enchanted. This is one more reason I start with a clean chicken broth. Olive oil plays a major role in this Italian sausage soup.
Parmesan Cheese and Pecorino Romano Cheese We are in the Pecorino team most of the time and we like to grate a bit into almost every soup we eat. Its an Italian thing, you can love or hate. We love especially it here in this easy Italian Wedding Soup.
Dry Pasta While I may not eat pasta very often, the family does, especially pastina which would work well in this shrimp white bean soup. This is a great way to add more bulk to a dish.
Canned Beans The family loves them, and they work as a healthy filler. Not only can you add a can of beans to broth to make a quick soup like this shrimp white bean soup. Or make a fast white bean bruschetta appetizer.
Shrimp White Bean Soup
Easy ten minute soup, using canned white beans, shrimp, olives and boxed broth.
1 pound shrimp (peeled and deveined)
4 cups chicken broth
3 cans white beans (do not drain)
1/2 cup peppadew peppers (see notes)
1/2 cup grape or cherry tomatoes
2 scallions (sliced )
10 Spanish olives
2 tablespoons Italian parsley
dash red chili flakes (optional)
1 teaspoon sea salt
1 teaspoon black pepper (or to taste)
1 tablespoon lime juice from fresh lime
Place peeled shrimp in a saucepan with a cold water. Once water begins to boil, shrimp are done. Remove and drain.

Heat chicken broth up with three cans of beans (do not drain). Add beans, shrimp peppadew peppers, tomatoes, and oilves to soup.
If you dont have peppadew peppers, you can add peppers of your choice. You can skip these also.
The post Easy Shrimp White Bean Soup, and My Pantry Hacks appeared first on Spinach Tiger.
---
Share this post
---
---
---
0 comment