Homemade Copycat Olive Garden Zuppa Toscana
Posted by admin on
I bet you have finished a bowl of the Olive Garden Zuppa Toscana Soup and wondered if you could make this soup. You can make your Zuppa Toscana taste just like the Olive Gardens soup recipe. Potatoes, Italian sausage, kale, onions, bacon, and cream make for a delicious and hearty soup. You dont have to get a babysitter, or even leave your house to have soup just like Olive Garden Zuppa Toscana.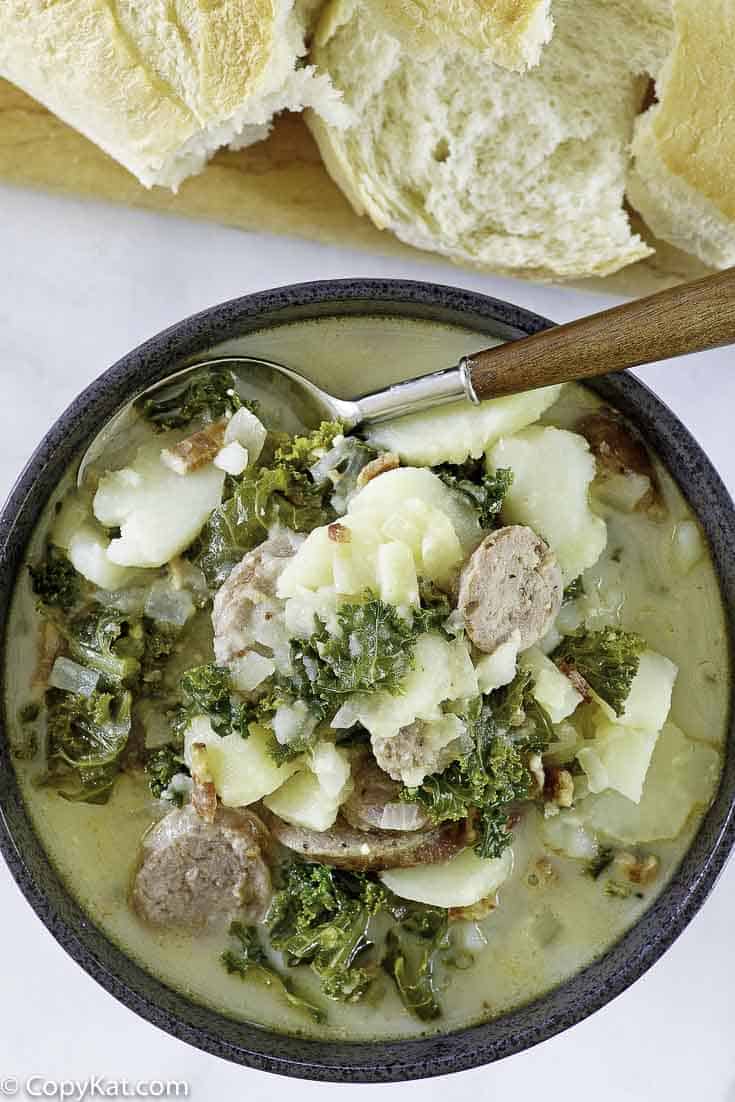 Rich and hearty, Zuppa Toscana is one of the most popular Olive Garden soups on the restaurants menu. Enjoy a delicious bowl of this Olive Garden favorite at home any time you want with this recipe. Like most homemade soup, the Olive Garden Zuppa Toscana recipe does take some time to come together. Do you want to get this meal on the table faster? Then be sure to read the time-saving tips below.
What Makes Italian Sausage Italian?
Sausage is the star of this soup, so it needs to be the highest quality Italian sausage you can find. Make sure to select Italian sausages for this recipe because it has an entirely different flavor profile than other types of sausage, such as Andouille or Chorizo.
Italian sausages combine finely ground pork, pork fat, and seasonings inside a natural casing. The main seasonings which give them their unique flavor are fennel and anise. Unlike other varieties of sausages, Italian sausages are always raw, and never smoked or precooked. You will need to make sure to cook them thoroughly before serving.
Dont be confused about how the labeling on the package. You will often see Italian sausages labeled as mild, sweet, or hot in the supermarket. Mild and sweet sausages are two different words companies use to describe exactly the same ingredients. The word hot indicates that red pepper flakes are part of the pork mixture. The spiciness of hot Italian sausages varies by brand.
For this recipe, hot or sweet Italian sausages work, so choose whichever one you usually enjoy.
Cooking and Serving Suggestions for the Olive Garden Zuppa Toscana Recipe
Use a food chopper.A lot of the time required to make this recipe revolves around cutting the vegetables. Save time and get perfectly diced onions and sliced potatoes with an inexpensive and indispensable food chopper. These inexpensive food prep tools are a must-have time-saver in any kitchen.
Serve with warm slices of Tuscan bread to make Zuppa Toscana a simple supper.Tuscan bread is unique because it is baked without salt. Some people say the reason there is no salt in bread from the region is that the stubborn residents refused to pay high salt taxes during the Middle Ages. Other people think saltless bread pairs well with the traditionally heavy and salty local food. Either way, Tuscan bread goes great with this soup.
Top each bowl with cheese and a splash of olive oil.Just a tablespoon of extra virgin olive oil on top of your soup just before serving helps provide a luscious mouthfeel. A little grated PecorinoRomano or Parmesan cheese on top helps to balance out the soups richness.
If Olive Garden is your favorite restaurant, then you have to give these recipes a try:
Olive Garden Watermelon Moscato Sangria
Olive Garden Spinach Artichoke Dip
Olive Garden Steak Gorgonzola Alfredo
Olive Garden Chicken & Shrimp Carbonara
Dont miss any of our fantastic recipes byfollowing us on Twitteror bybecoming our friend us on Facebook.
Olive Garden Zuppa Toscana Soup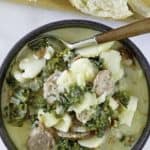 You gotta try makingOlive Garden Zuppa Toscana Soup at home.
1 pound sweet or hot Italian sausage links
1 pound russet potatoes (s, peeled, cut in half lengthwise, then sliced 1/4-inch thick)
1 cup chopped onion
29 ounces chicken broth (2 cans)
1 quart water
2 teaspoons minced garlic
1/4 cup Oscar Mayer Real Bacon Bits (1/2 can)
Salt and pepper
2 cups chopped kale
1 cup heavy cream
Preheat the oven to 300 degrees F. Put the sausages in a baking pan and roast for about 30 minutes, until cooked through. Drain on paper towels and cut into slices.

Place the potatoes, onions, chicken broth, water, and garlic in a pot and cook on medium heat until potatoes are done. Add the sausage, bacon, and salt and pepper to taste and simmer for another 10 minutes. Turn the heat to low. Add kale, the cream, and more water, if necessary. Heat thoroughly and serve.
The post Homemade Copycat Olive Garden Zuppa Toscana appeared first on CopyKat Recipes.
---
Share this post
---
---
---
0 comment