The Top 10 Places to visit for National Sandwich Day: all that, and a bag of chips
Posted by Admin on
Sunday, November 3 is National Sandwich Day and MIAbites has got you covered with all of the best places in South Florida to enjoy a sandwich, and a bag of chips.
Le Sandwicherie (Various locations)
Owners Franz & Elise have been serving sandwiches in Miami Beach since 1988 at their icon outpost, Le Sandwicherie. Their sandwiches feature daily fresh ingredients, crisp baguettes or croissants and their infamous magic vinaigrette. Today, their locations span from Miami Beach to Brickell to Wynwood and North Beach. With so many choices, La Sandwicherie has something for everyone, but just don't forget the magic sauce!
Gregory's Diner (7301 Biscayne Blvd. Miami, FL 33138)
The team at Mandolin recently opened Gregory's American Classics in a beautifully redecorated space off of Biscayne in the reimagined Vagabond Hotel. You don't want to miss any of the sandwiches on their menu, but especially the Instagram worthy triple-decker turkey club. You'll thank us later!
Vinaigrette Sub Shop (159 East Flagler Street Miami, FL 33131 – located in this historic Alfred I. DuPont Building)
Chef Danny Serfer's newest concept, Vinaigrette serves classic subs and Italian specialty sandwiches in the center of Downtown Miami. Their menu boasts a phenomenal selection of sandwiches, including house-made roast beef and event pimento cheese, but we recommend their Italian specialty subs served on an 8-inch sesame roll including the Italian sub, Vinaigrette sub, and the 18-month prosciutto sub. The vinaigrette sauce is different from any other and goes well on any of their offerings. Pro-tip: ask for extra vinaigrette sauce, you're gonna want it!
Ms. Cheezious (various locations)
There's a reason why Ms. Cheezious has remained wildly popular since inception. Their award-winning grilled cheese creations are not to be missed. The Goat Cheese & Prosciutto melt, short rib melt, patty melt and Mack'n melt make our hearts melt (but so do all of the others). Save room for the s'mores melt if you're really eager and want to double-up this National Sandwich Day.
Mary's Café & Laundromat (2542 SW 27th Ave, Miami, FL 33133)
If you'd never been to Mary's Laundromat to eat a Cuban Sandwich, then you're doing it all wrong. Mary's Laundromat café is open 24 hours, and their ventanita serves up one of Miami's best sandwiches. From the classic Cuban Sandwich to the Media Noche and steak sandwich, it's all some of the best you can find in Miami and for great prices. Feel free to grab a sandwich while you do your laundry or visit Mary's after a long night out. Either way, you won't regret it!
Laspada's Original Hoagies (Various Locations)
Laspada's has been feeding South Florida since 1974, but they actually began in Chester, PA where hoagies originated. We're talking top quality meats, cheese, and tons of veggies atop real Italian bread, which is baked fresh daily. What some call "the best damn hoagies in town" is definitely worthy of mentioning for best sandwich. What's better is they freshly cut and throw your meat as soon as your order is placed. You can't go wrong with any of their hoagies.
Kush (various locations)
Kush's menu features many drool-worthy sandwiches and burgers, but this National Sandwich Day we suggest trying their farm style chicken sandwich. This beauty includes fried cage-free chicken breast topped with melted jack, mixed greens, sliced red onions and BBQ sauce all served on an amazing Challah bun.
Krun-chi by Jeremy Ford at the TimeOut Market (1601 Drexel Ave, Miami, FL 33139)
Chef Jeremy Ford knows how to cook exceptionally well, and he also knows a thing or two about sandwiches, which is why we recommend the spicy fried chicken sandwich at Krun-chi by Jeremy Ford. This sandwich comes served with all of the proper fixin's to include cucumber, kimchi, and lemon aioli.
K'West by Norman Van Aken at Time Out Market (1601 Drexel Ave, Miami, FL 33139)
If anyone knows a good fish sandwich, it would be James Beard Award Winner, Chef Norman Van Aken aka the "Culinary Titan of Florida", which is why we highly recommend his stock Island Fish Sandwich served with lemon tartar sauce and coleslaw.
Sanguich de Miami (2057 SW 8th St, Miami, FL 33135)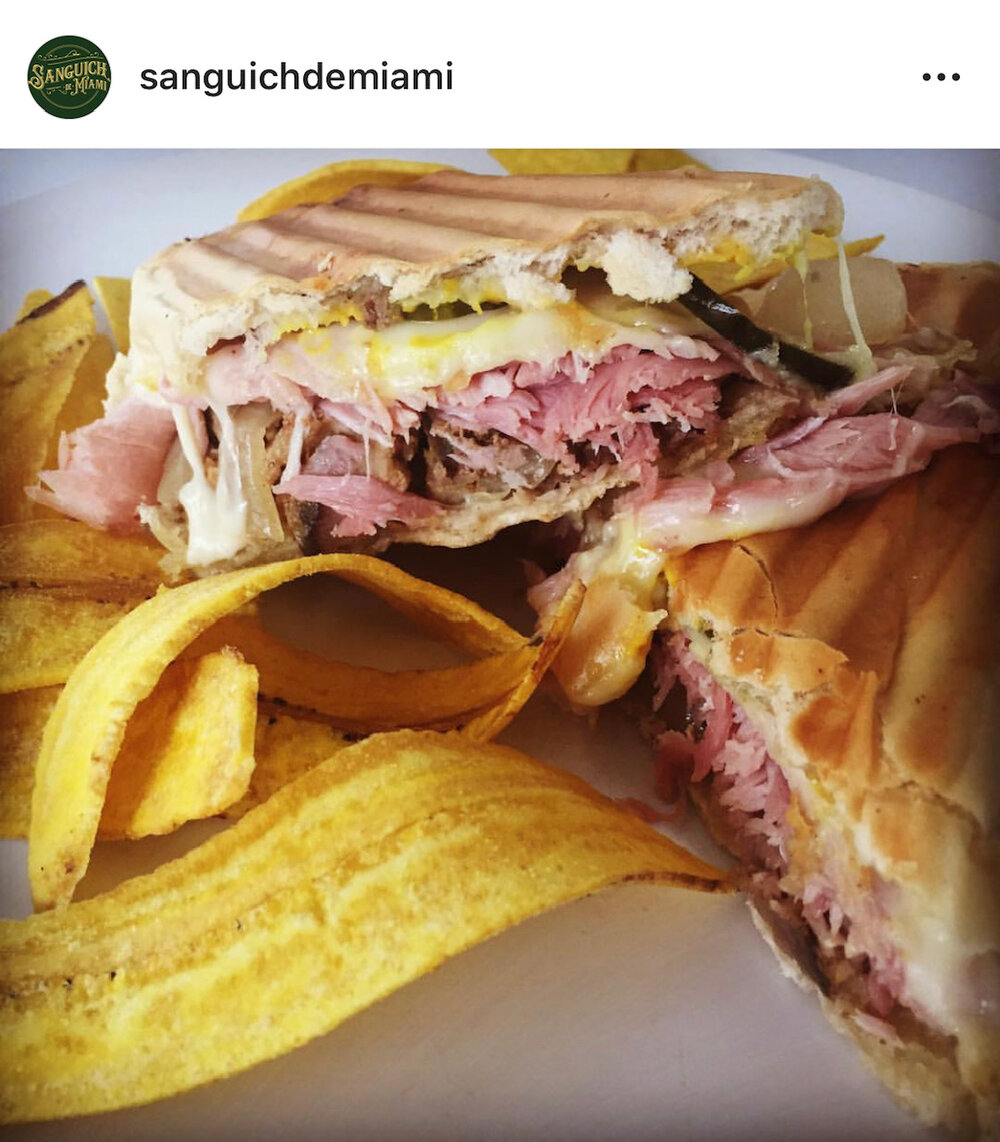 A trip to Little Havana isn't complete without a visit to Sanguich Miami. This National Sandwich Day, try their Croquetta Preparada, Pan Con Lechon, or the Pan Con Bistec. Also grab an order of chicharrones and a café con leche to make this a complete meal. We think everything at Sanguich de Miami is muy bueno!
And in case you missed the "controversy", don't make the mistake of heading to Chick fil A on National Sandwich Day as they are closed on Sundays.
---
Share this post
---
---
---
0 comment